Sitting in the waiting room at my doctor's office, I picked up an issue of WebMD magazine. I quickly went through the pages, mostly paid advertising for drug companies, with the occasional article on "Living Healthy," "Fitness & Exercise," and healthy food and recipes.
Something caught my eye. It was a cartoonish character with a dark brown face, apparently the cover of a new book titled Chocolate Me! Huh? Of course, the book was written by a celebrity, actor Taye Diggs.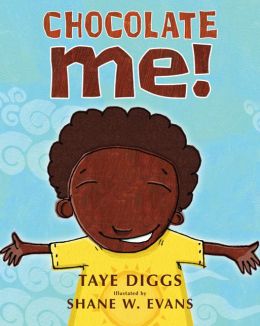 Apparently, Diggs wrote it to build self-esteem in African American children. Good for him! But, it begs the question, "What about multiracial children?" If Diggs is talking about foods, what does that mean for multiracial kids? Carmel? Butterscotch? Light chocolate? What does it mean for White kids? White Milk? Vanilla anything? Asian bananas?
It immediately reminded me of the Kraft Foods character of MEL, who was a poor, confused multiracial MilkBite Granola Bar, but this one is Black. We complained about that ridiculous promotion on this blog.
Taye Diggs is promoting Chocolate Me? to a wider audience than blacks. His promotional hype states the following: "The title suggests it's directed more toward African-Americans, but we're all in this together."
Here is the Publishers Weekly review:
It's tough being the only African-American kid on the block. The young narrator's white acquaintances tease him ruthlessly about his name, his dark skin ("It's brown like dirt. Does it hurt to wash off?"), his wide nose, and his 'fro. It's enough to make any kid wish he were just like everyone else—until Moms offers just the right kind of comfort: "You have skin like velvet fudge frosting mixed in a bowl.... Cotton candy hair soft to the touch of my fingertips." The titular phrase is used like a refrain, initially a burden and later a celebration of self. Actor Diggs, making his children's book debut, gives an unvarnished take on the emotional impact of taunting that cuts to the core of one's identity, though not every reader will find satisfaction in the ending, in which the narrator is reconciled with his insensitive peers over chocolate cupcakes. But Evans makes the hero's journey to confidence irresistible, with bighearted, stylized pictures that draw on the emotionally exuberant vocabulary of street art and anime. Evans doesn't minimize the cruelty the boy suffers, but he makes it feel surmountable.
This book does belong in the kids section of our local book stores or libraries. No, it is not for every child of any race, ethnicity, or age. I recommend that you look at this book carefully and decide if the message is right for your children. It does talk about differences, values, and acceptance, so accept it for what it is—a book for African American children, and not all kids.
Source: Susan Graham/Publishers Weekly/WebMD